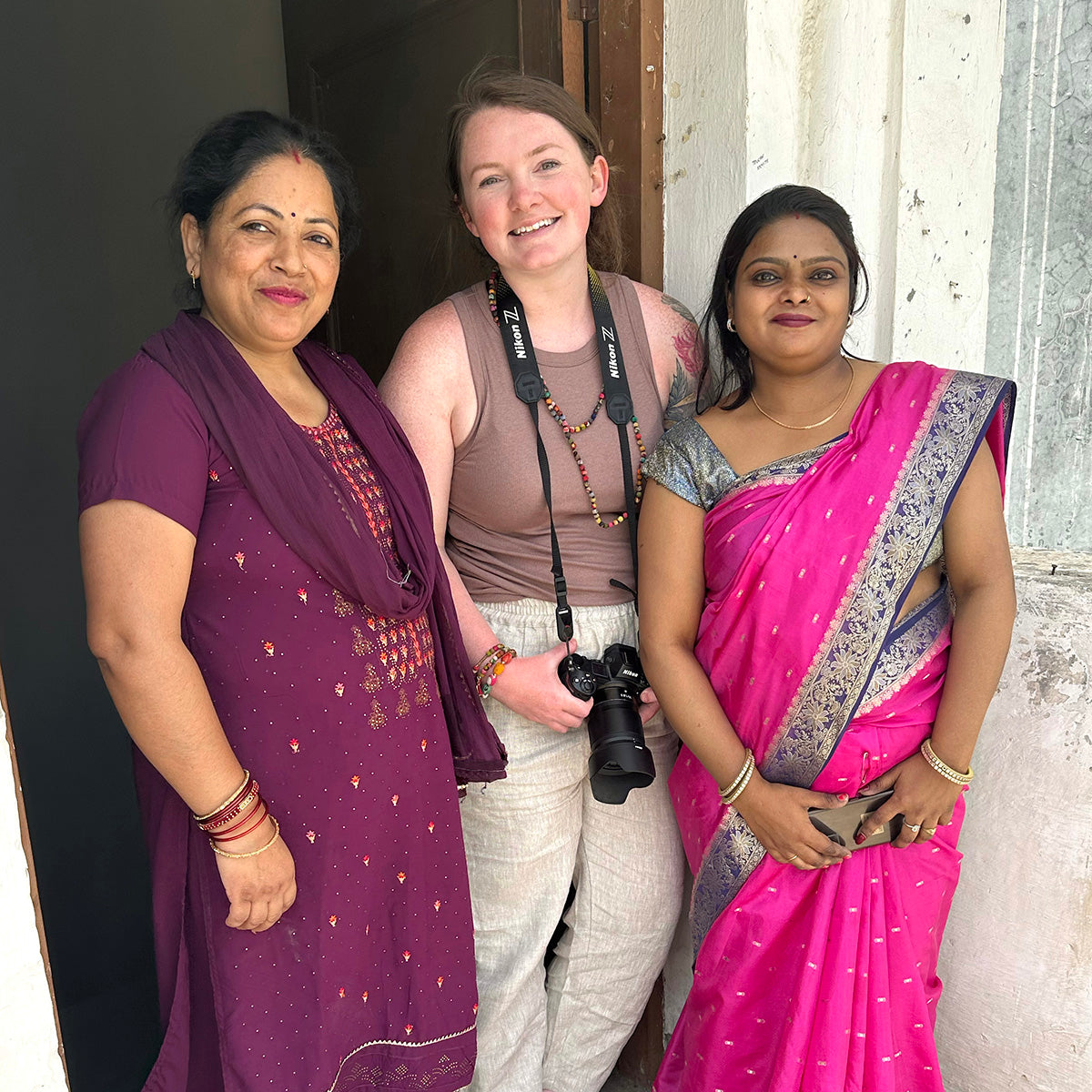 Hello friends! It's Harley here, the WorldFinds Marketing Manager. We returned from India in late April, and I'm finally feeling recovered from my first international trip.
This trip really was so eye opening for me. I grew up in southern Indiana, and most folks in my town don't have a passport. Neither my mom nor dad have ever traveled outside the United States so this trip was a big adventure for me. I was so excited to explore another culture and feel the discomfort of experiencing something so new.
We arrived in Delhi the evening of April 19th after 21 hours of travel. The Delhi airport was relatively quiet inside, but as soon as we stepped outside, the sound of car horns and chatter, along with the thick, humid air, engulfed me. My suitcase rolled over marigolds and flower petals that littered the ground from families reuniting.
I spotted a cream colored dog lying in the middle of the walkway just outside the airport. As an animal lover, my instinct was to run to it, ask around if someone had lost their dog, and help it find its way home. It's not everyday you see a loose dog asleep outside of an airport. Thankfully, before I made a fool of myself, I remember being told there are dogs everywhere in Delhi, and this is very normal. (The community helps care for these animals by leaving out food!)
The traffic to our host's home was unlike anything I've ever seen before. Traffic signals and signs were merely a light suggestion. Turn signals were rarely used. Honking horns, which I initially interpreted as hostile, were a polite form of communication between vehicles. Controlled chaos. Occasionally, traffic would halt and divert because of a cow meandering on the road. However, somehow, it all worked together like a symphony..
After a good night's sleep, I awoke for my first day in India. The first portion of our trip was dedicated to meeting and visiting with the artisans that craft our Kantha jewelry. When we arrived, we were greeted with a "namaste" and an excited smile from everyone.
Small groups of women, adorned in bright saris, gathered in the office with large quilts to sit and work, surrounded by hundreds of beads and lengths of string. Some wrapped and prepared new beads, while others assembled coasters or jewelry. A pair of artisans added the finishing touches to a stack of our Embedded Kantha Earrings. Occasionally, a small child would walk over and sit on his mother's lap while she worked. A young girl completed her homework in the corner while her mother crafted beads.
It was so surreal getting to meet these incredible artisans that I've seen in photos for four years. I felt like I already knew them despite living on the other side of the globe and having never spoken to each other. We shared laughter at our inability to communicate past nods, pointing, and smiling. I felt so welcomed, and I was so happy to be there.
I was quickly overwhelmed by the colors and excitement. I sat down with our designer, Stephanie, while she worked on new samples for future collections. We were shown various new techniques the artisans had come up with and how we could incorporate them into future launches. It was so exciting to be a fly on the wall during these conversations, getting a sneak peek at our future collections months before they arrive in the US. Stephanie would sketch an idea, and within the hour, the sample team would present her with the design in physical form. Together, they would make small tweaks and discuss designs and improvements. It truly was a collaborative process.
This first day was when we had my favorite meal of the trip, and I'm drooling just thinking about it. A group of women in the office wanted to prepare us a South Indian meal for lunch. A bowl of spiced vegetable stew was accompanied with idli, small fluffy "dumplings" made from fermented rice and lentil batter. (Fun fact: idli is considered to be one of the healthiest foods due to its unique method of preparation!). This was then topped with coconut chutney and peanut sauce. It was absolutely divine.
Before I knew it, our day was done. The next day, we planned to take group photos of the women artisans. I completely underestimated how many women I'd meet. In shifts, anywhere from 15 to 40 brightly dressed women would gather in the office, and we would take walks through the village to take photos. After taking photos of one group, I had to take a pause and just look around because it was all so beautiful. They were all as excited to see us as we were to see them.
Stephanie and I took the weekend to travel to Jodhpur for some sightseeing. I had never been around such a rich history and culture. We visited the Mehrangarh Fort, which was constructed in 1459. We strolled through the Umaid Bhawan Palace (one of the world's largest homes!) which is one of the residences of the former Jodhpur royal family. We strolled through the winding streets of the "Blue City", dodging the motorcycles and mopeds speeding past us. The roads were lined with small, closet-sized stores. Dogs slept on cool stone steps to avoid the oppressive sun. We stopped to watch a man craft a stack of bangles using only a hammer and a small charcoal fire.
Unfortunately, as soon as we returned to Delhi, I came down with a vicious, but quick cold that took me out for a day, and I had to miss our excursion to our artisan partners that craft our metallic jewelry. Before I knew it, our time in India was up, and we were headed back to the airport.
I can personally vouch that WorldFinds jewelry is making a difference. Your purchases are making a difference. Fair trade creates so much goodness, quite literally, across the globe. It was such a beautiful experience to see that firsthand.
I met so many women and children who are directly benefiting from our partnerships and are on their way to a brighter future. As we left the office to head to the airport, we asked the team to translate for us and thank the group of artisans for all their hard work and amazing talent. We wouldn't be where we are without them. 
The women responded excitedly. The team loosely translated back: "Thank YOU for your orders and the opportunities you give us."