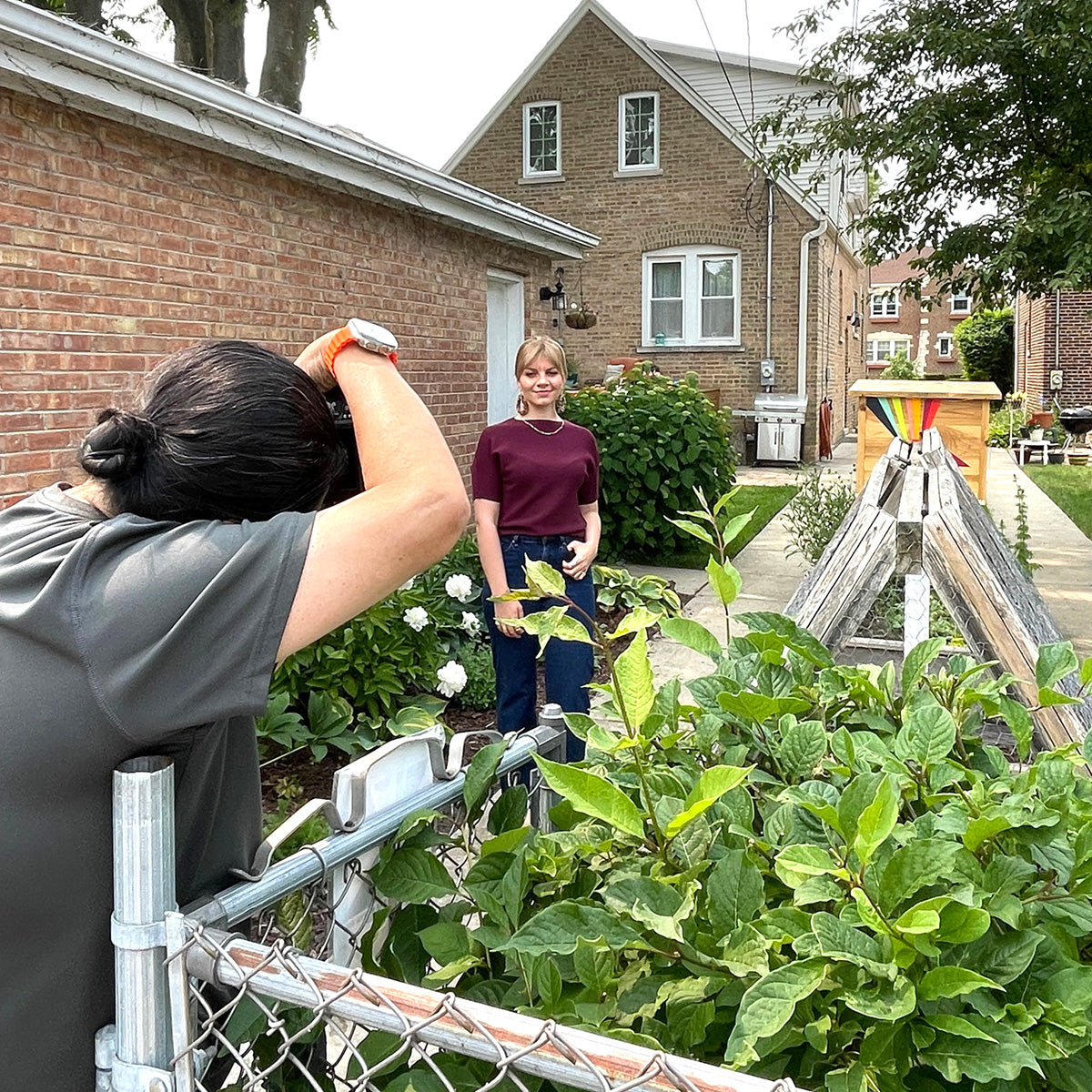 Styling Ideas • Inspired by our Fall Photoshoot
As the leaves begin to change and the air turns crisp, we're embracing the cozy (and sustainable) vibes of fall! We had an amazing photoshoot late this summer that captured the essence of this season, and we're thrilled to share some of the inspiration it has brought us. Our vibrant jewelry and accessories are the perfect companions for your fall wardrobe, and we've curated some stunning styling ideas to elevate your looks this season!
1. Lightweight knits & beaded beauties
We're easing into the fall temperatures here in Chicago and we're loving short-sleeved knits with our new statement necklaces. This combo lets you embrace the textures of fall while still staying comfortable as the weather changes! Asha modeled a cream knit top with our Kantha Halved Necklace and Kantha Interlocking Fringe Earrings. 
2. Dainty necklaces + statement earrings
This season we launched seven designs featuring our new Milieu beads - a teeny-tiny take on our classic Kantha beads. We love pairing the two Milieu necklaces with bold statement earrings for a contrast of size & color. Nancy modeled two fall-toned looks, the Kantha Mileu Demi Necklace with the Kantha Sculptural Teardrop Earrings, as well as the Kantha Milieu Classic Necklace with the Kantha Milieu Triple Hoops! 
3. Nature-Inspired Evening Ensemble
We drew inspiration from a twinkling autumnal evening for this look, by pairing our new Stenciled Leaf styles with a classic LBD. This look can also transition as the weather cools down by adding a jacket or wrap. 
4. Layers aren't just for clothes!
We're taking our love of layers and applying it to our jewelry this season! Our new Kantha Essentials Necklaces are super fun to play around with and look great stacked and layered with each other. An extra-long extender on each piece lends itself to perfectly customizing the length. Our team loves wearing these with dresses, blouses and sweaters - and had fun styling them during our tradeshows!