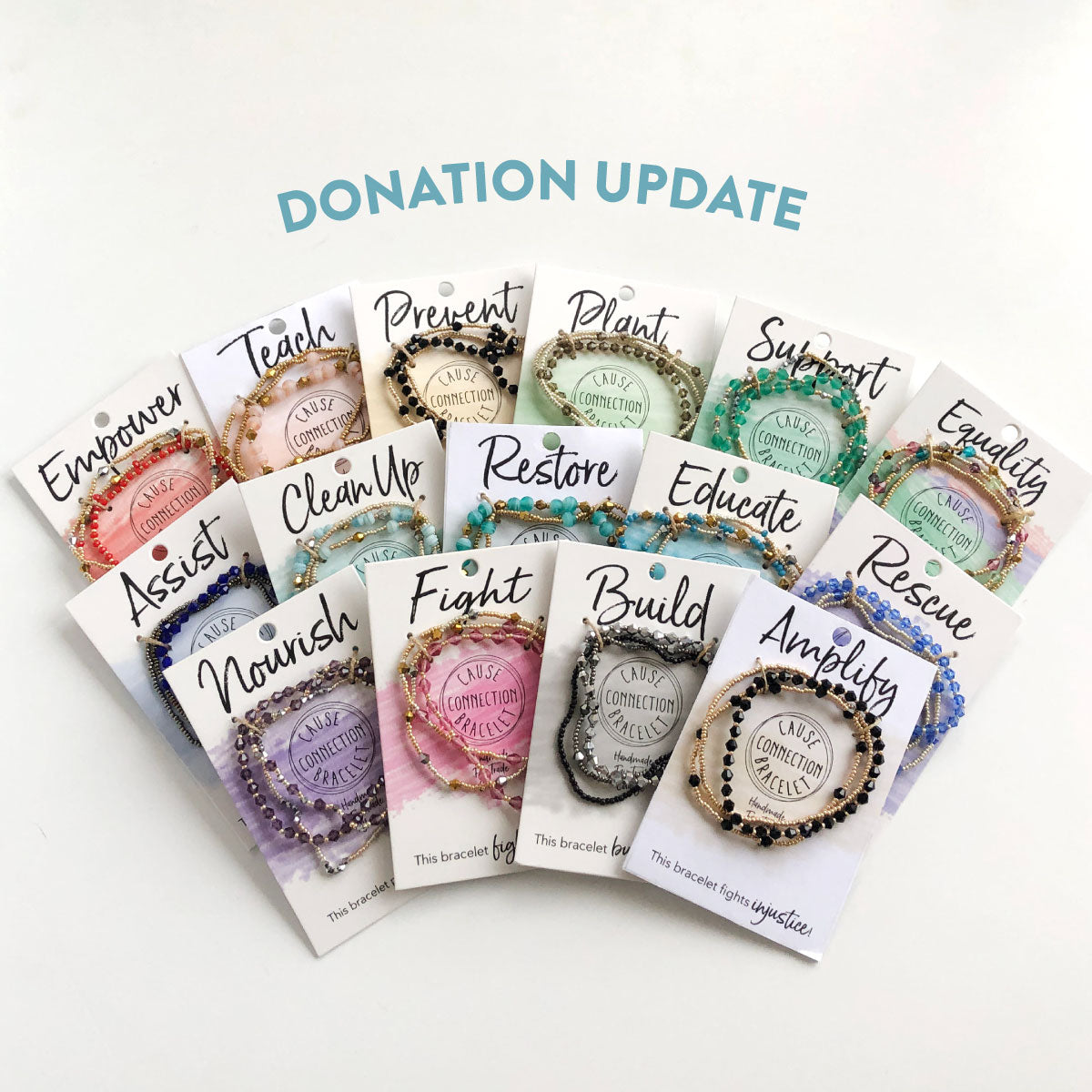 2023 Cause Connection Update ✨
Thanks to your incredible support of our Cause Connection bracelets, we're excited to share we've donated $86,045 as of January 2023.
We have been able to donate to the following charities:
Amplify: $1,800 to the Equal Justice Initiative
Advocate: $1,350 to Save The Children
Assist: $1,875 to the International Rescue Committee
Build: $3,075 to the Habitat for Humanity
Clean Up: $7,305 to The Ocean Conservancy
Equality: $5,530 to the Matthew Shepard Foundation
Educate: $4,875 to Tara Projects
Empower: $5,550 to In Her Shoes Foundation
Fight: $4,275 to the The Hope Foundation
Love to Ukraine: $25,040 to the Global Giving Crisis Relief Fund
Nourish: $5,550 to Heifer International
Plant: $3,675 to the National Forest Foundation
Our donation to the National Forest Foundation has resulted in 3,675 trees being planted across in the country in National Forests. One tree is planted for every $1.00 donated to the National Forest Foundation.
Rescue: $4,875 to the Animal Care League in Oak Park
Our donations to the Animal Care League have helped purchase toys, meals, vaccines, surgeries and other lifesaving tests for animals in need. 100% of our donation goes to supporting the animals.
Restore: $2,475 to the Coral Reef Alliance
Support: $3,675 to the Wounded Warrior Project
Teach: $3,150 to Donors Choose
Our most recent donation to Donors Choose allowed us to fully fund 8 projects and help with an 9th project. We funded the purchase of painting supplies for a classroom in Garden Grove, CA. We helped a teacher in Naples, FL provide her students supplies to become entrepreneurs. We helped a teacher in Minneapolis, MN explore printmaking in her classroom. We helped a teacher in Columbus, IN fill her classroom with kindergarten reading materials. We helped a Kansas City, MO teacher give her students outdoor recess equipment. We helped a teacher in Saint Paul, MN and San Diego, CA teach their students math & money through math manipulatives. We helped purchase basketballs and scrimmage vests for a Houston, TX girls basketball coach. Finally, we helped a teacher in Tucson, AZ give her students books to read by African American authors.
Uplift: $1,350 to NAMI: National Alliance on Mental Illness
- - -
We donate 15% of the wholesale price of each bracelet to these organizations. Donations are based on our purchases from our artisans, not product sales. However, the more popular a bracelet and cause is, the more we can order & donate!
Thank you for being a change-maker and helping support so many incredible organizations through our Cause Connection Collection.
Updated January 18, 2023.