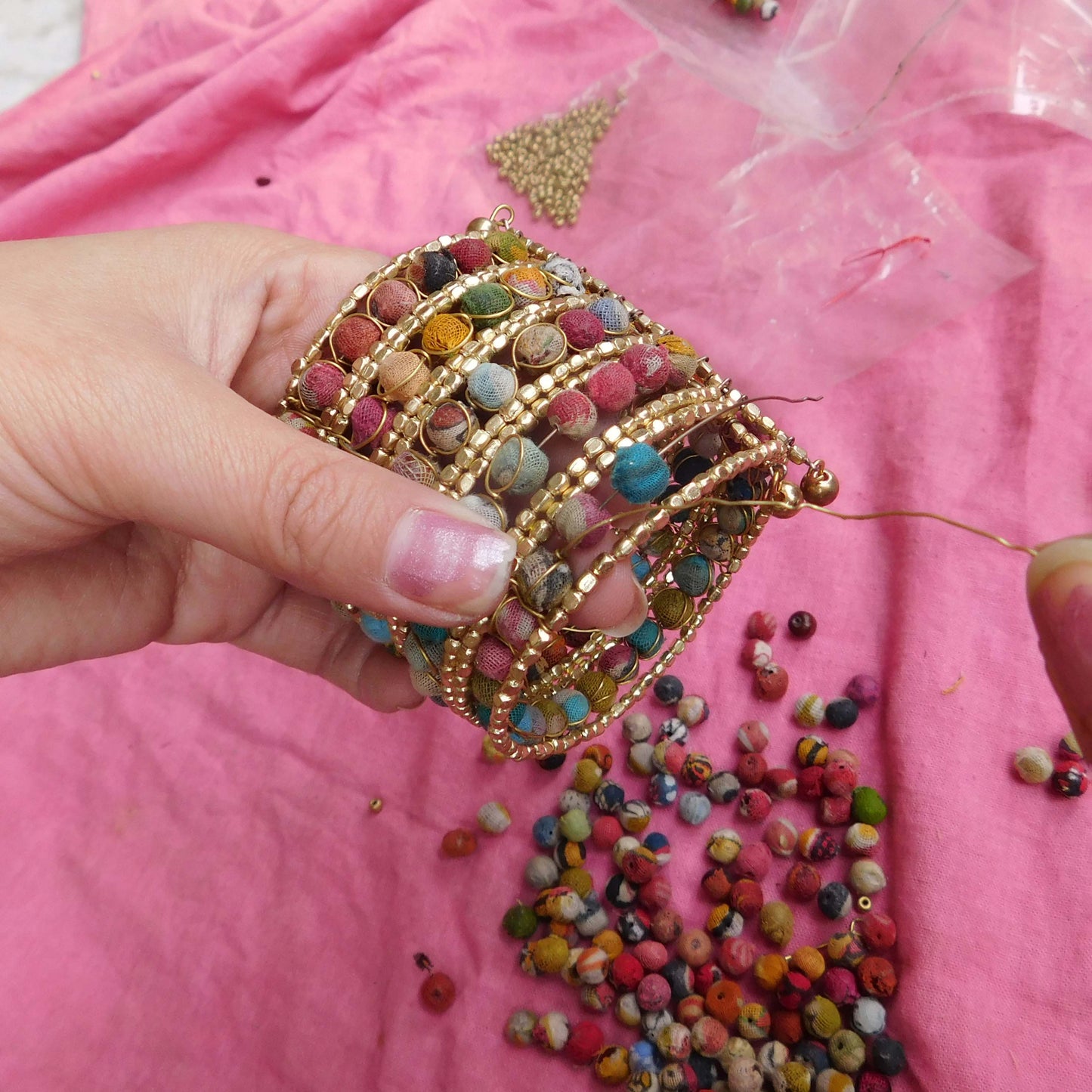 Our colorful, repurposed Kantha Jewelry continues to be incredibly popular! 
The Happy Accident
It was truly a happy accident at our artisan group in India that led to the creation of this jewelry! We'd been designing bags and small goods using repurposed Kantha quilts, so there were scraps from the bags everywhere. Being super resourceful, our artisans started playing around with the fabric by placing it on some of our jewelry components. They sent us some ideas, then we came up with a Kantha Cuff using a strip of the quilt with some beading and embroidery over it. It was a success! This was in 2011, and we wanted to grow the collection, so we needed to create earrings and necklaces as well.
The Process
Someone at the artisan group remembered the furniture factory down the road in their village, and all of the scrap wood they had laying about. They thought that this might be a possible, sustainable material for a bead base! So they talked with their neighbors, collected the wood, began to carve it into beads, and then tried to figure out the best way to securely cover them with the scrap fabric. After many, many attempts, prototypes and samples back and forth with our team, our first Kantha beaded jewelry design was born! That was in 2013, and this amazing collection has now grown to include over 500 styles.
The Makers
The artisans are based just outside of New Delhi, and we've been partnering with them since they first began, in 2002. Our close collaboration and support of this women's group has helped them to flourish and expand alongside the growth of the Kantha jewelry collection. In 2015 we began a Girls Education Fund to help cover expenses so even the most marginalized families in this community can send their daughters to school. We're the only members of the Fair Trade Federation that work with this group, and the original, pioneering source of the wood bead-based Kantha Jewelry!