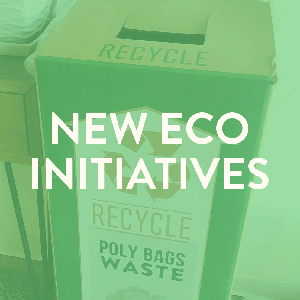 Each year during Fair Trade Month, we focus on a project that brings good to the world. Last year, we kicked off our Fair Trade Masks initiative to help provide funds to our artisan partners for COVID relief efforts. For this year's Fair Trade Month project, our efforts are focused a bit closer to home.
We've been challenged by our polybag packaging since our very beginning 20 years ago. We hate them so much, yet need them for a few reasons. They keep our products clean and free from moisture, damage, mold, and oxidation as they're shipped from India and then stored in our warehouse. They also help the ease of distribution on the wholesale side of our business.
We've struggled to find an alternative and have been searching for a solution to these for most of our time in business! So - we're incredibly excited to share 2 new initiatives regarding those pesky polybags:
1. We've been searching for a way to dispose of the polybags that are left over as we prepare your order to be shipped. We've partnered with TerraCycle to help dispose of these bags and avoid having them go to a landfill! We've been collecting the bags and will send them to TerraCycle so they can be converted into something useful and diverted from a landfill!
2. We've finally found a compostable bag in India - meaning less polybags all-together! While you won't see these new bags in your order, you can rest assured knowing that this helps reduce the use of newly-created polybags in our production process. The compostable bags are made from corn starch and can break down at a commercial composting facility.
We are super excited about both of these initiatives, and hope to continue to improve our footprint with even more earth-friendly programs in the future! Stay tuned!
Plus - don't forget to add an EcoCart Carbon Offset to your order to make your order Carbon Neutral!